Comments to and about Teachers
Teaching Suggestion Mailbox
The Teaching Suggestion Mailbox provides a direct communication channel between students and lecturers to reflect on teaching opinions or related issues during the current semester. Opinions submitted by students via the mailbox during the mid-term period cannot be accessed or modified by the Academic Affairs Office. They are only forwarded anonymously through the system to lecturers and relevant department heads.
Students are advised not to use emotional language when expressing their opinions. The Academic Affairs Office is fully responsible for maintaining the confidentiality of students' identities during data processing.
In principle, the mailbox is open until the end of the Add-or-Drop period and will be closed before the final teaching opinion survey, the exact date of which is subject to the University calendar.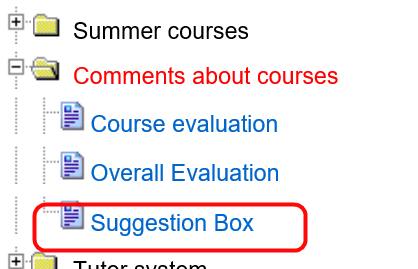 Course Evaluation
The course evaluation is carried out at the end of each semester. Please go to https://www.ccxp.nthu.edu.tw/ccxp/INQUIRE/ and fill in the forms. The online evaluation is completely anonymous. Therefore, once you've completed the questionnaire and clicked the "Submit" button, there is no way to change or delete it. The evaluation results will be kept confidential and will not be published until the final grades have been issued.
Student feedback is essential to ensure continuous improvement of the course and teaching quality. Therefore, every constructive comment will be taken seriously and handled with great care.
Don't forget to come to the office of the Division of Curriculum at the Main Campus or Nanda Campus after completing the course evaluation and we will offer you a nice NTHU souvenir (limited quantity, first come, first served).
In previous years, after the deadline for submitting grades, course evaluation results were only accessible to lecturers. From the autumn semester 2016, if the instructor decides to make them public, students will be able to access part of the results (e.g. "6. The instructor's performance is outstanding.").
Note :
The target of the course evaluation is courses in which 'the teacher gives lectures'. Therefore, activities such as book reports, discussions, presentations or debates, which do not focus primarily on the teacher's lectures, are not included in the survey.