Request for Extra Selection
Restrictions on course enrollment
In several cases, the course selection might be restricted. These include courses
that already reached the maximum course size

that is limited to students of certain departments

that is limited to undergraduate or graduate students

that favor students of certain departments, students of certain degrees, or students in a certain semester
Request for extra enrollment
If you are affected by one of the above-mentioned limitations but still intend to take the course, please enter the

Academic Information System

and download the "Form for enrollment in courses with limit". Get the signature or approval stamp from both the course instructor and the department of the course and hand in the signed form to the Division of Curriculum.

Application Dates
From 12:00 noon to 9:00 a.m. the following morning during the Add-or-Drop Selection period. Please submit the Application Form to the office of Curriculum and be sure not to miss the application deadline. Incomplete or late applications will not be accepted.
Exception
Courses that "Don't Accept Extra Selection" do not permit printing out the application form (the course won't have a check box as shown in the following figure), students must go to the selection system to select the course before the enrollment quota limit is reached. If you desperately need to get into the class for special reasons (like graduation), talk to the department office that offers the course. They might be able to make an exception and help to print out the application form if the professor also approves letting you into the class.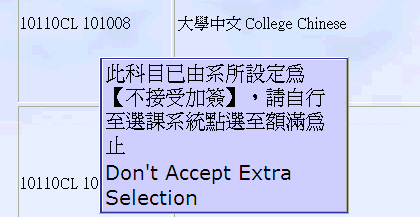 Students will be able to log on the Moodle/iLms/Elearn System the day after they enrolled in the course.