Request for Extra Selection
Restrictions on course enrollment
In several cases, the course selection might have restrictions. These include courses:
that already reached the maximum course size
that is limited to students of specific departments
that is limited to undergraduate or graduate students
that favor students of particular departments, students of particular degrees, or students in a particular semester
Request for extra enrollment
If one of the above limitations affects you but still wants to take the course, please enter the Academic Information System and apply for extra selection.

The instructor will decide to approve or not, and you will get the notification via email. If the instructor agrees, the Academic Information System will immediately add the course to your course list. Please log into the Students' Inquiry System to query the results.
You can check your application status online.
If anything stops the process (e.g., courses clash), you need to fix it and process it again. Otherwise, the Academic Information System would withdraw these courses after the add-or-drop selection.
Please consider rescheduling your study plan if the instructor disagrees with your request.
Application Dates
From 12:00 noon to 9:00 a.m. the following morning during the Add-or-Drop Selection period.
It's not acceptable for a late application and late approval.
Exception
Courses that "Don't Accept Extra Selection" do not permit printing out the application form (the course won't have a check box as shown in the following figure). You must go to the selection system to select the course before reaching the enrollment quota.
If you desperately need to get into the class for particular reasons (like graduation), talk to the department office that offers the course. They might make an exception and start the process of extra selection for you.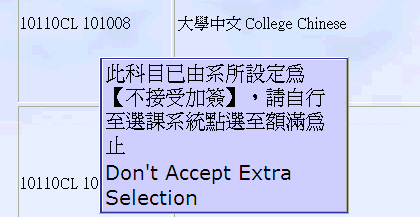 You can log on to the cclass/eLearn System the next day you enroll in the course.